Tweed New Haven Airport Announce American Airlines Departure
American Airlines will no longer serve other airports across the country
November 18, 2020
New Haven, CT— Tweed New Haven Airport announced that American Airlines will no longer serve our airport and other airports across the country due to the industry wide impact of the coronavirus pandemic.
"Tweed New Haven Airport wants to thank American Airlines for providing an essential mode of travel to the Greater Connecticut area since 2003. In spite of a global pandemic, our Airline Service Development team has been hard at work developing the necessary relationships and infrastructure to ensure HVN emerges better and stronger. We're confident that the work our team is doing behind the scenes will enable HVN to play a positive role in the economic development of our community as the industry and country recover from a global crisis. We look forward to flying together in the friendly skies soon," said Sean Scanlon, Tweed-New Haven Airport Executive Director.
On the Tweed tarmac, a disaster area by design
October 28, 2020
Every three years, the Federal Aviation Administration mandates that the airport conduct a mass casualty emergency drill. Read more…
Read more about the newest edition to our team, Executive Director Sean Scanlon.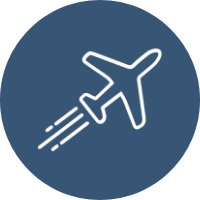 Skip the drive and avoid the hassle and stress of flying out of larger, congested airports. Save time and fly from Tweed–New Haven to your destination – anywhere in the world! TSA Pre✓® now available at HVN.