Southern Connecticut travelers have a choice when they fly. Tweed offers a safe, hassle-free experience, with clean facilities, and none of the congestion of a large-hub airport – all while saving you time and money. Enjoy affordable, easy access parking, just a few short steps from the terminal. Be greeted by our friendly airport staff and airline partners, breeze through security screening, and settle into your seat on one of the most comfortable jet airliners in the industry, with available business class seating. You are now well on your way to your next business meeting, visiting with family and friends, or that long-overdue vacation! We want you to be confident that we have dedicated resources to help ease your concerns when flying – especially during these uncertain times. Our staff is working around the clock to ensure the healthiest environment for our customers, implementing industry best-practices for fighting COVID-19, including posting notices for social distancing, mask requirements, installation of hand sanitizing stations throughout the facility, and increased disinfection of both public and non-public areas, following strict CDC guidelines. Rediscover Tweed – your neighborhood airport, ready to serve!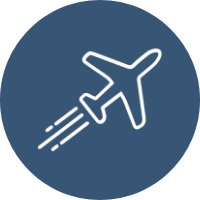 Fly Tweed to CLT and connect to any destination served by American Airlines.
Skip the drive and avoid the hassle and stress of flying out of larger, congested airports. Save time and fly from Tweed–New Haven to your destination – anywhere in the world! TSA Pre✓® now available at HVN.