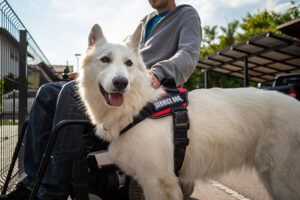 Tweed New Haven Airport welcomes its many guests, including pets and service animals. To ensure a smooth travel experience, passengers traveling with pets and service animals are encouraged to review the information below.
General Guidelines
Only service animals are allowed in the terminal without a kennel.
All other pets are required to remain in their kennel when in the terminal.
Passengers should contact their airlines for specific policies and fares for transporting pets in cargo or for traveling with a pet or service animal.
Passengers should contact TSA for information on security screening for a pet or service animal. Learn more.
NEW: The U.S. Department of Transportation has issued a new rule on traveling by air with service animals. Learn more.
Service Animals
Service animals are allowed throughout the entire airport.
Pets
Pets are allowed throughout the entire Airport, however, they must remain in their kennel at all times.
For the health and safety of the pet, it is advisable to discuss travel plans with a veterinarian.
Pet Relief Area
Outdoor relief area is located outside the Departures Terminal Front Entrance.
Passengers are encouraged to allow their furry friends and service animals to use the relief area prior to their scheduled flight.
Disposable bags and a trash can are available.