Operating hours vary per car rental company, so please call ahead if you have questions about rentals or drop off. Rental cars should be parked in a designated rental car spaces.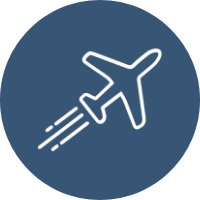 Avelo Airlines' nonstop service from Tweed-New Haven
Skip the drive and avoid the hassle and stress of flying out of larger, congested airports. Save time and fly from Tweed–New Haven to fourteen destinations! TSA Pre✓® now available at HVN.