Airports Council International (ACI) awarded three Tri-State airports — Albany International, Westchester County, and Tweed New Haven airports — with the organization's highest health recognition. Avports provides management services for these three airport's facilities. These health accreditations underscore efforts by local governments and Avports in New York and Connecticut to keep travelers and workers safe during the COVID-19 pandemic.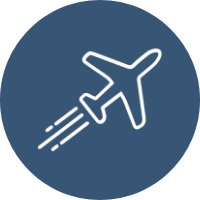 Avelo Airlines' nonstop service from Tweed-New Haven
Skip the drive and avoid the hassle and stress of flying out of larger, congested airports. Save time and fly from Tweed–New Haven to fourteen destinations! TSA Pre✓® now available at HVN.